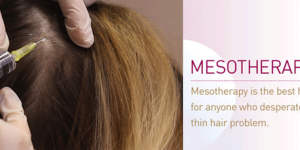 Tired of dry scalp, hair fall and weak hair? We have just the solution for you. Mesotherapy brings just the right materials to the exact place where it's needed (around the hair follicles).
Mesotherapy is a safe, natural alternative to invasive cosmetic procedures. The process delivers vitamins, minerals and amino acids directly into the skin to nourish and rejuvenate, promote production of collagen and elastin, and stimulate your metabolism. As your skin ages, circulation decreases, and the resulting reduction of oxygen and nutrients hinders your body's ability to flush out toxins. This is what drives premature aging and causes the skin to develop an ashen appearance. Mesotherapy aims to solve that problem through its incredible procedure.
Mesotherapy is also used as a supplement or an alternative to many anti-aging regimens including botox, laser resurfacing, peels, antioxidants, topical creams and facelifts.
Contact Info
Phone : +971 4 3282327
Villa No. 1082 Al Wasl Road, Umm Suqueim 2
Near Intersection of Al Wasl Rd and Al Manara
Rd Dubai, United Arab Emirates
Email : enquiry@almassaclinic.com
Book An Appointment